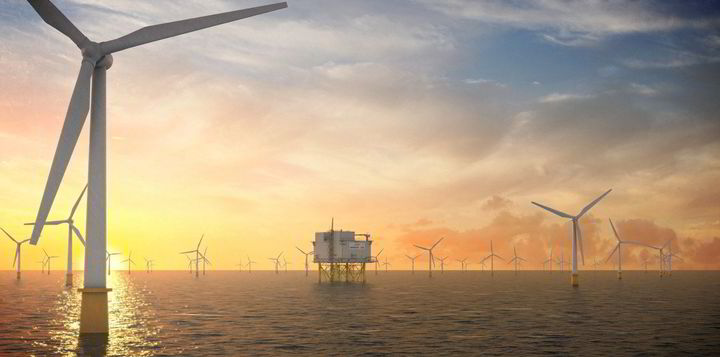 Norwegian oil and gas utility Aibel and Hitachi ABB Power Grids have received major orders for the third phase of Dogger Bank's huge offshore wind project in Great Britain, which when completed will be the largest in the world with a capacity of 3.6 gigawatts.
Aibel has been awarded the contract for the engineering, procurement and construction of converter platforms for the 1.2 GW Dogger Bank C phase, while Hitachi ABB Power Grids has signed a contract for the grid connection.
ENERGY DISCOVERED: ACCELERATE SUBSCRIBE
Gain valuable insights into the energy transition in the global oil and gas industry with ACCELERATE, the free weekly newsletter from Upstream and Recharge. Register here today.
Converter platforms convert the incoming alternating current production from wind farms into direct current in order to export it to shore via a high-voltage direct current line (HVDC).
HVDC transmission cables are used for distant offshore arrays because they have less power loss than DC power lines.
"With this award, we are once again confirming our position as the preferred supplier in the European offshore wind segment and strengthening our role in the ongoing transformation of the energy industry," said Mads Andersen, CEO of Aibel.
Aibel had already received a Dutch order for the DolWin5 network connection in the German North Sea from the Dutch-German transmission system operator (TSO) TenneT.
Hitachi ABB has received an order for the third 130-kilometer HVDC transmission link from Dogger Bank C in the North Sea to the UK mainland.
The new award adds C. to the ongoing deliveries of Dogger Bank A and B. It is still under the financial completion of the third phase, which is expected for the end of 2021.
"Together with customers and partners, we are playing a key role in accelerating the energy transition," said Niklas Persson, Managing Director of Hitachi's grid integration business, ABB Power Grids.
"HVDC technology makes a significant contribution to a climate-neutral energy future by enabling the integration of large-scale and remote-controlled renewable energy generation."
Japanese company Hitachi and Swiss company ABB signed their joint venture Hitachi ABB Power Grids last summer, a $ 10 billion transmission giant aiming to pursue lucrative contracts in the booming global offshore wind market.
The Norwegian oil major Equinor and the British energy company SSE Renewables have jointly developed Dogger Bank in a 50-50% joint venture.
The Italian major Eni will take over a 20% stake in the first two phases, which still requires regulatory and lending approvals.
Dogger Bank's huge wind farms, when completed in 2026, are expected to produce enough electricity to power six million UK households.
The massive project is key to Britain's ambition to build 40 GW offshore wind capacity by 2030.
GE Renewable Energy has already been named the preferred wind turbine supplier for all three phases of Dogger Bank.
(This article first appeared in upstream renewable energy sister publication, Recharge, on February 17, 20201.)