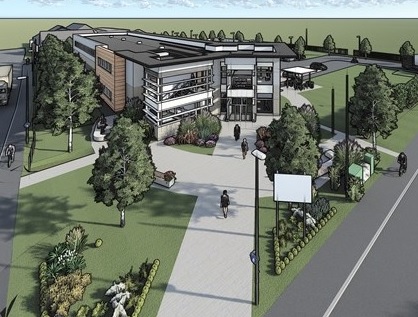 Construction has begun on a new corporate center in Beverley, paving the way for around 30 companies to make it their new home once it is completed early next year.
The £ 4.8million development on Grovehill Road will rehabilitate a former demolition site.
The East Riding of Yorkshire Council co-financed the project, which is £ 1.5m from the European Regional Development Fund (ERDF) and £ 0.5m from the Getting Building Fund through the partnership between Hull and East Riding Local Enterprise (HEY LEP). to fund the project.
The building – with its project-driven construction designed by East Riding Infrastructure & Facilities – will house a combination of office and light industrial facilities with 14 workshops on the ground floor. 17 offices will occupy the first floor.
Paul Bell, Director of Economic Development and Communications for East Riding of Yorkshire Council, said, "We are delighted that the Beverley Enterprise Center has broken new ground as it becomes one for both business and Beverley as a development center for the industry will become an important landmark.
"With the promise of 1,500 m² and the 80 jobs it will create, it will be another one-stop shop for start-ups and established companies in the region and will stand proudly with the other business centers in the region Bridlington, Driffield, Market Weighton, Hessle, Brough and of course the RaisE Business Center development currently under construction in Goole. "
The center will offer a wide range of services including:
Office space on "easy-in, easy-out" terms
Conference facilities
Business support and advice relating to legislation and finance
informal networking opportunities.
Jo Dooley, manager of business investment and tourism services for the East Riding of Yorkshire Council, said, "The council's business investment services, which operate through our business centers, provide practical advice and guidance to hundreds of companies so that they can thrive and ensure that they benefit directly the East Riding economy as it continues to grow.
"The local council is fully committed to supporting the local business community, and the construction of this center is a strong indication of this support with the promise of bright and modern office and workshop space."
James Newman, Chairman of HEY LEP, said, "We are delighted to be supporting the Beverley Enterprise Center through the allocation of the Government's Getting Building Fund.
"The center will provide much-needed high-quality managed office space in the city, which will be an attractive opportunity for young and growing companies as well as established SMEs to settle in a thriving and modern work environment."
Amanda Hoggart, Business Center Manager at East Riding of Yorkshire Council added, "Our business centers have a range of office and workshop space of various sizes that are available for rent and accessible 24/7. one week.
"Each center has its own proactive team on site, including experienced business consultants and a professional front-of-house team to support your business.
"Every year, our business centers help entrepreneurs realize their dream of running their own business and can also help existing businesses expand and grow."
Construction of the center was entrusted to local contractors Geo Houlton & Sons Ltd. forgive.