The COVID-19 pandemic has created several problems for the construction industry in the United States.
The construction industry has faced a number of problems since the COVID-19 pandemic began. Given a shortage of materials and skyrocketing prices, the industry is now struggling with employment problems.
On the one hand, there are fewer jobs than before the pandemic broke out.
Ken Simonson, chief economist for the Associated General Contractors of America, said the problems were due to a few things, including raw material shortages and less commercial projects like shops, offices and hotels.
"Thirty-five states, including Texas, are well below pre-pandemic employment levels," Simonson said. "Fourteen other states, including Utah and Idaho, have far more workers than they did before the pandemic."
JOB OPENINGS STAND AT 9.3M RECORD HOW COMPANIES NEVER GET HIGHER WHILE COMPANIES GET ON RECRUITMENT
In June, Houston leads the nation in construction job losses. Since February 2020, the city has cut more than 29,000 jobs. New York City is not far behind and has lost over 22,000 jobs. The leap to the next city with job losses is a long one – Midland, Texas has lost nearly 10,000 jobs.
On the other hand, contractors struggle to fill vacancies.
"Either they cannot return to work because they are sick themselves. You are afraid of an infection on the construction site or have to look after sick people at home or you cannot go to school again. "" Said Simonson.
Bill Heimann has been with Tellepsen, a construction company, for 18 years, but the past year and a half have been the toughest.
"That was unprecedented both for the general public and for the construction industry," said Heimann.
Tellepsen employees are getting used to life on construction sites during the COVID-19 pandemic. (Tellepsen) (Fox News)
Tellepsen never took his workers off site, but his day-to-day life became very different as it adjusted to the guidelines of the Center for Disease Control and Prevention.
"We're building places where people get healthy, like hospitals, and where they learn, like schools," said Tellepsen's HR director Maryanne Henn. "At the end of this pandemic, these things are still needed so it was really important for us to keep making sure these things stay on schedule and are available when people need them in the future."
HOLZWELT HELPS DRIVING LIVING ROOMS, CONSTRUCTIONS
To ensure that its employees feel safe, the von Heimann company is offering COVID-19 vaccination clinics in April 2021.
"It was at a time when you couldn't just go to Walgreens or CVS, and if you weren't part of a medical clinic, you really couldn't get them," Henn said. "So it was really important to us that they were available because our people are on the front lines and they go home to their families and we wanted everyone to know that we are doing everything we can to keep everyone safe."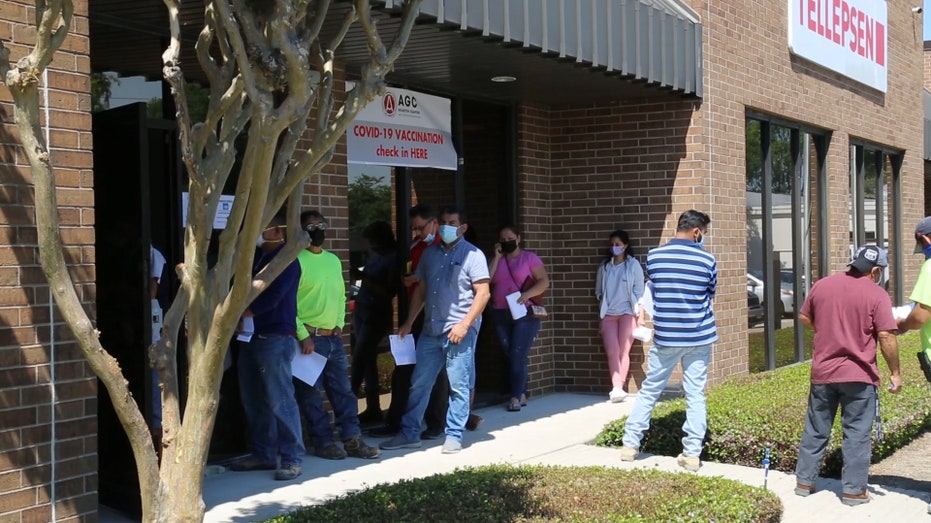 The Houston construction company holds a vaccination clinic for Texas construction workers. (Tellepsen)
The construction company later expanded the clinics to include all construction workers in the Houston area.
"It was a really good day because that day wasn't about Tellepsen," said Henn. "It was about the construction industry as a whole and that the construction industry is doing its part to keep us safe for the community and our employees out there."
The company has vaccinated over 500 people since April.
"Just knowing that I could go home to my family and possibly not expose them was a turning point," said Heimann. "For so many of these people this is the livelihood of their entire family so they are happy to have a secure job and now they only have one more layer of protection and security knowing they will come to work vaccinated can."
GET FOX BUSINESS ON THE GO BY CLICKING HERE
And Tellepsen isn't the only company making strides in rebuilding the industry.
"I think some are also getting involved in bar bonuses or otherwise, either to attract new workers or to bring back those who have been reluctant to return to work," Simonson said. "I think it will take a long time to really find that balance."
Meanwhile, AGC sent a letter calling on the Biden government to address rising material prices and labor shortages that plague the industry. CEO Stephen Sandherr repeated the call in June, partially issuing a statement: "Supply chain problems and labor shortages are holding back an otherwise much stronger recovery in the construction sector."