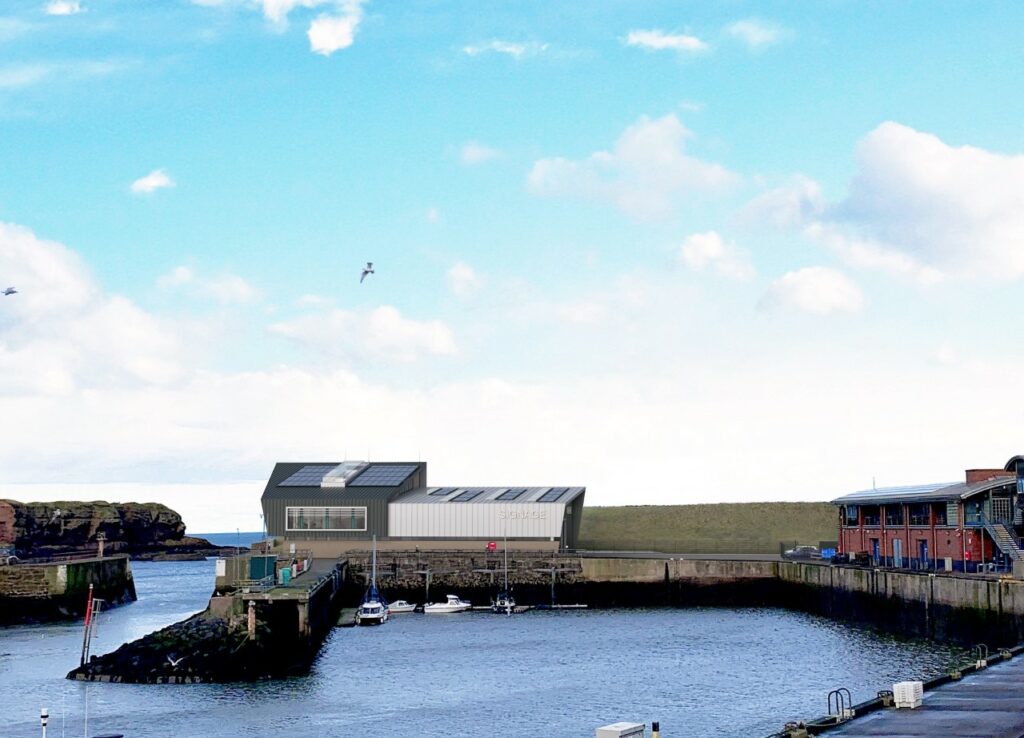 Neart na Gaoithe (NnG) Offshore Wind Limited has contracted two Scotland based companies to build its O&M base in the port of Eyemouth, Scotland.
Muir Construction, based in Inverkeithing, Fife, has been selected to design and build NnG's three-story, 1,040-square-foot O&M main building and two-story, 538-square-foot warehouse.
A rendering of the NnG O&M base. Source: NnG
Inland and Coastal of Lossiemouth, Moray will design, manufacture and install the port's new pontoon on the ocean side of the port to make the basin accessible to crew transfer vessels and technicians.
Jointly owned by EDF Renewables UK and ESB, NnG signed a lease with Eyemouth Harbor Trust in February that confirmed the port as an O&M base for the project's 25 year lifespan.
The O&M building will house the office, warehouse and social facilities needed to support the maintenance of NnG once the wind farm is fully operational.
Muir Construction has started enabling the work, with construction expected to begin this month, while Inland and Coastal has completed the pontoon design with manufacturing scheduled to begin this month and installation scheduled to begin later this year.
The 450 MW NnG will supply around 375,000 households with electricity and offset over 400,000 tons of CO2 emissions annually.
"We are fully committed to using the Scottish supply chain wherever possible and these two fantastic companies join a long list of Scottish companies that are helping deliver this hugely important infrastructure project for Scotland." Matthias Haag, NnG project leader, said.
"Both have a wealth of experience and expertise in their fields, and I look forward to working closely with them on the construction of our O&M base and pontoon. I am delighted that the O&M base not only supports the 25 year lifespan of the offshore wind farm, but also brings fantastic socio-economic benefits to the city of Eyemouth and the local community. "
NnG's O&M base will provide up to 50 permanent jobs.
Onshore construction will continue for NnG at various points along the cable route that runs underground from Thorntonloch Beach into the Lammermuir Hills. The offshore work began in August last year.
The wind farm is scheduled to go into full operation in 2023.