UNF students, whether they lived on campus last year or are returning to campus for the first time in over a year due to COVID, will find that some things have changed since their last visit, and Spinnaker is here to help you to help keep up to date on what's different.
There are many current construction projects in different degrees of completion, including:
NEW POOL COMPLEX
Have toured the complex in January when it was still under construction, the new complex behind the wellness center appears to be almost complete. A sign in the wellness center said it would open in mid-September.
UNF's new pool complex as seen from the Student Wellness Center, photo by Nathan Turoff.
In addition to the Olympic pool, the new complex will also contain offices, lockers, toilets and mechanical services for the pool itself.
NEW ENTRANCE FOR THE DISABLED FOR BUILDINGS 15
This project seems to add a new entrance to the IT building to accommodate people with disabilities.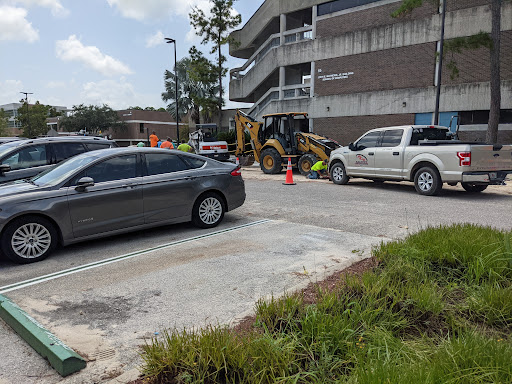 Construction right next to Building 15, photo by Nathan Turoff.
After some delays, this project will also add a service lane in front of the building.
CANDY CANE LAKE IMPROVEMENTS
This project is about improving Candy Cane Lake, and this construction is very difficult to miss for nearby students.
Candy cane lake, photo by Justin Nedrow.
The newest of the three projects here, in terms of when it was designed, this project will add fountains and handrails and modify the walkway from Osprey Crossings to Osprey Landing.
These projects will certainly enable new experiences and perspectives for current and future students at the university. Spinnaker will follow when these projects are completed and when more construction projects begin.
___
For more information or news tips, or if you see a mistake in this story or have compliments or concerns, please reach out [email protected].